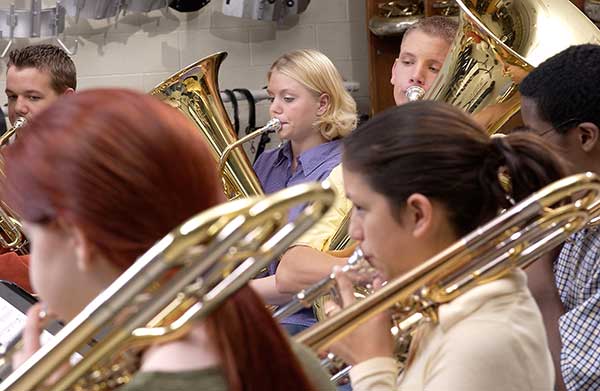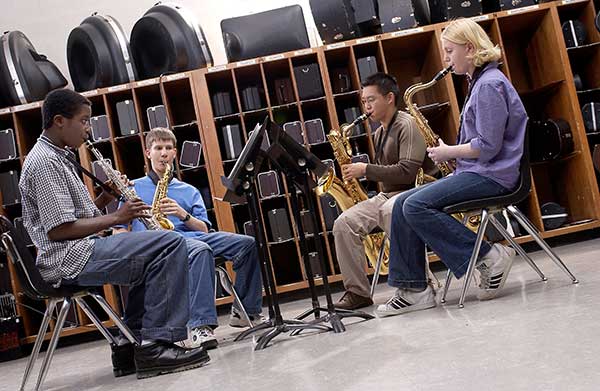 This summer, why not have some fun with your instrument and make lots of new friends?
Come up to Camp Timbers…
Advance your musical ability
Have fun!
Increase your repertoire
Play new marches, classics, and pop music
Music chosen especially for your ability and experience
Spend an exciting week or two doing fun electives, playing games and working to perfect a final concert performance.
Don't miss one of our Music Camps this summer!
Register early, space is limited.
Details
Who: Open to students going into 6-10th grades who have "completed" at least one year of musical instruction.
When: June 16th-22nd, June 23rd-29th, 2019. Look for applications at the end of this year
Where: Camp Timbers, West Branch
Special: Free Camp T-Shirts
Features: Special Evening Performances
Closing: Final Concert – Kirtland Community College
COST
The cost of each seven-day camp is only $449.00, which includes:
Lodging
All Meals
Activities
Snacks
Electives
Sheet Music
Instruction
There is an extra cost for horseback riding.
Students must bring their own instruments or school provided instruments.
Percussionists should bring percussion mallets and sticks.
All campers should bring a prepared music piece to play/sing during placements.
Discounts
For families with multiple children attending, or children who will be attending both sessions, the following discounts are offered:
$50 off one registration, if a second child/sibling attends from the same family
$50 off one registration, if a child registers for both sessions A & B
Up to $100 off one registration if two children from the same family attend both Session A and B (for a total of four registrations)
Curriculum
The curriculum will include:
Daily group sectionals on your major instrument
Two daily music rehearsals
Music clinics by famous clinicians from around the country
Special musical concerts and performances by local and nationally known artists
Electives, swimming, canoeing and cabin activities
Friday night dance, karaoke, and pizza party
Closing Music Concerts at Kirtland Community College
Events
Fun
Zip Line
Swimming
Bonfires
Pizza Party
High Ropes
Archery
Fishing
Nature Trails
Horseback Riding
Mountain Biking
Karaoke
Canoeing
DJ Dance
Waterslide
Just visited Herter Music Center for the first time and I'm incredibly impressed! Awesome customer service and sheet music selection, we will be back!
Primary Communities Served
Auburn
Bay City
Bridgeport
Buena Vista
Carrollton
Chesaning
Coleman
Edenville
Essexville
Frankenmuth
Freeland
Hemlock
Kawkawlin
Linwood
Merrill
Midland
Millington
Saginaw
Shields
St. Charles
Tuscola
University Center
Vassar
Zilwaukee