Music Lessons & Instructors
MUSIC LESSONS BAY CITY MI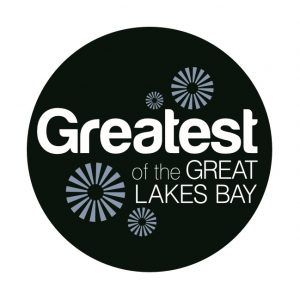 Herter Music has been offering professional musical instruction since 1903!
We hope this will be your first day of a lifetime of musical fun!
Quality Musical Instruction
At Herter Music Center, you will get the highest quality musical instruction possible, and we encourage you to contact us with any questions or ideas you may have that would enhance your musical experience here.
Lessons
Lessons are in 1/2 hour weekly private sessions on a month-to-month basis. Our program is designed for you to have fun and enjoy playing, whether you're in your own room or you aspire to play at Carnegie Hall.
Instruments include but are not limited to:
Piano
Keyboard
Organ
Accordion
Flute
Clarinet
Oboe
Alto Saxophone
Tenor Saxophone
Trumpet
Trombone
French Horn
Baritone
Drums / Percussion
Violin
Viola
Cello
Upright Bass
Guitar
Bass Guitar
Uke
Mandolin
Voice
James Besaw
Saxophone
Bio: I have been teaching at Herter Music Center since 2012. In May 2017, I received my Bachelors of Music Education from Saginaw Valley State University, where I studied with Susan Littell. In the summer of 2015, I was a Performance Fellow at the Nief Norf Summer Music Festival in Knoxville Tennessee. I play in a variety of ensembles across the state of Michigan ranging from jazz and rock bands to professional wind ensembles, such as the East Shore Wind Symphony. In the fall of 2018, I began a Master's Degree Program in saxophone performance at Oakland University, where I am a graduate assistant. I currently study with Dr. Jeff Heisler.
In my teaching, I have prepared students for college music auditions, solo and ensemble, auditions and various performances.
Ruth Birsching
Digital Keyboard, Organ, Piano
Bio: I have taught lessons for over 50 years with students ranging in age from 3 to over 70 years old. I received extensive training throughout my grade school, high school and college years in regard to both piano and organ lessons. I also received training in many areas of music theory . For many years I was a church organist. I also played for weddings, funerals, and choir accompianist. During my years of teaching, I have attended many music workshops to keep updated with new methods and teaching ideas. It is always my goal to inspire my students to have the same love for music that I have.
rabirsch@midmich.net
Joni Dey
Piano
Bio: I began playing at age 7 after watching all my siblings play before me. I first learned piano from my mother who was a school teacher, piano/organ teacher and church musician. Studied with a different teacher in high school. I began teaching piano lessons myself in 1997 as a part time job when my kids were small. I really enjoy working with beginners of all ages. I have played in church when needed and worked 10 years in the Saginaw Store as small goods/special orders manager. I am currently working full time for Herter Music Center in Bay City as Music Lesson Coordinator and Small Goods Mgr. I am married and the mother of 3 musical teenagers!
jdey@hertermusiccenter.com
Dale Huggard
Alto/Bass Clarinet, Clarinet
Bio: Dale Huggard is a graduate of SVSU and holds a Bachelors of Music with an emphasis in clarinet. In 2004, he was awarded the Rhea Miller Music Scholarship at Saginaw Valley State University. While at SVSU, he served as principal clarinet in the concert band and have also performed with the jazz band. He currently is principal clarinet in the Saginaw Eddy Band and the East Shore Wind Symphony. Dale also subs in regional symphonies around the state of Michigan. In 2006, he performed in Carnegie Hall in New York City with the National Wind Ensemble. He currently performs in pit orchestras at Midland Center for the Arts and other community theaters. His students have received superior ratings at District and State Solo and Ensemble and have been represented in the Michigan Youth Arts Festival for the past ten years. Dale has had numerous clarinet students work on and complete college degrees in clarinet performance and music education. His principal teachers were Joan Dillard and Linda Hargett. He excitedly welcomes students of any age and level.
Slazenger716@gmail.com
Jack L Fults III
trombone, baritone/ euphonium, trumpet, tuba, French horn, brass
Bio: Jack Fluts is a native of the Gaylord area and completed his undergraduate studies, and was a distinctive music scholar, at Saginaw Valley State University. He graduated Magna Cum Laude with a degree in Music Education (K-12) and Sociology. During his time at SVSU, he was very involved in the music department and participated in several music ensembles (both instrumental and vocal), helped with outreach programs, taught community music programs (jazz, choir, and steel band), and worked in the sound/ light booths for various university and community events. He has returned to Northern Michigan to teach K-12 music and drama at Concord Boyne, and is an active performer throughout the state. Currently he still teaches lessons in various instruments, performs with the East Shore Wind Symphony (Standish, MI), the Up North Big Band (Petoskey, MI), and various other groups. Jack enjoys teaching students how music can affect every part of our daily lives. Students won't be surprised to hear various different types of music coming from his classroom. He hopes this will inspire the students, and also showcase the different ways they too can perform and enjoy the gift of music.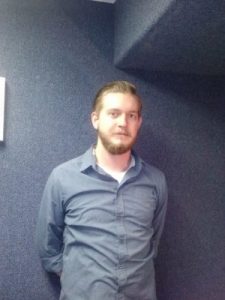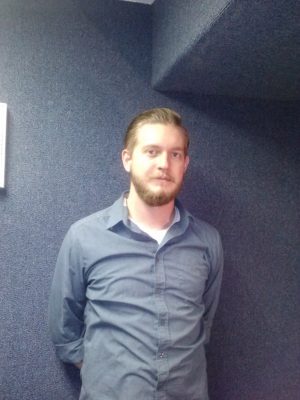 Dustin Vanderveer
Alto/Bass Clarinet, Bari Sax, Bass Guitar, Clarinet, Guitar, Saxophones, Tenor Sax, Wood Wind
Bio: Dustin Vanderveer began his musical training on clarinet and quickly branched out to the saxophone and the guitar. He moved from a small northern Michigan town to attend Saginaw Valley State University, where he graduated with a degree in music education. While saxophone was his principle instrument in college, Dustin has performed in a variety of different groups on guitar, bass and percussion as well. He now lives in Bay City and teaches Band at Handy Middle School.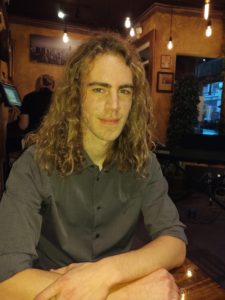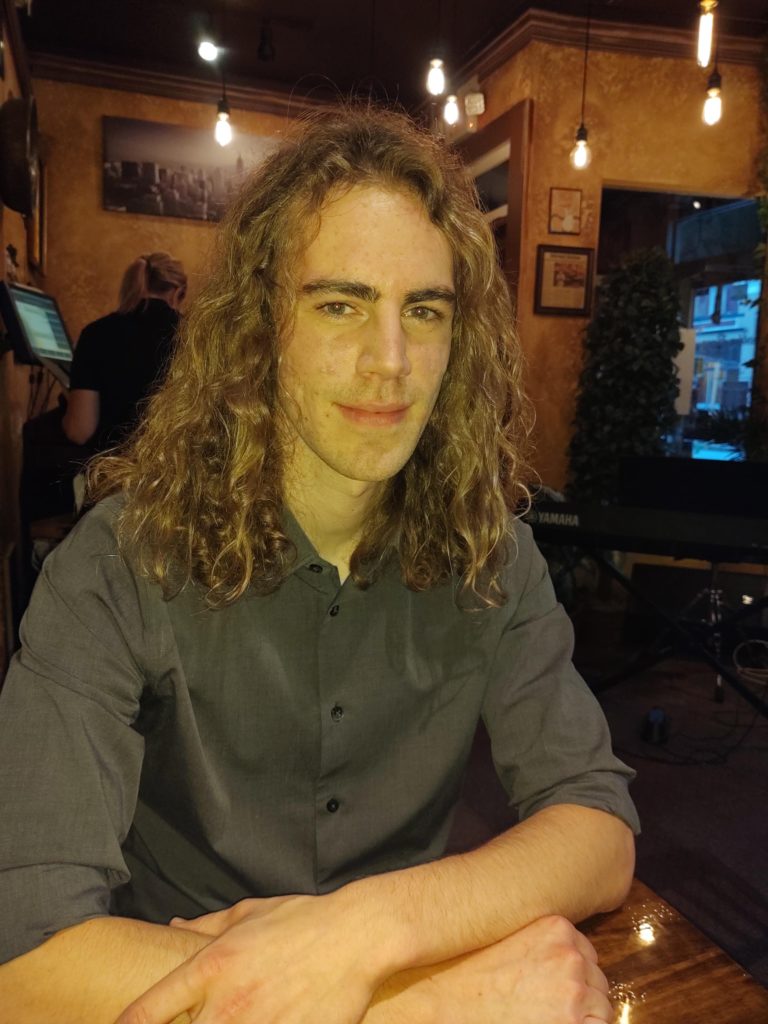 Jaron Jock

Piano
Bio: I started playing piano at 8 years old and it had been a large part of my life ever since. I began my studies in a traditional manor and later studied classical piano at SVSU. Recently,  I have been learning and performing more improvisational jazz and pop music, as well as performing with several rock groups in the area. I have been teaching for the last 5 years and thoroughly enjoy watching my students grow.  My goal is to give my students the skills to learn whatever music it is that inspires them throughout their lives.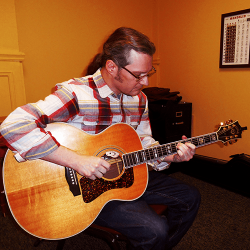 Ray York II
Bass Guitar, Guitar, Mandolin, Ukulele
Bio: I graduated from Kendall College of Art and Design with a BFA in Graphic Design – Illustration. I also spent one year at Sheridan College of Classical Animation. I have an engineers certificate from Recording Institute of Detroit. Some of the musicians I have worked with are: Bob Dennis and Steve Hunter (Motown, Recording Institute), Dick Wagner (Alice Cooper, Lou Reed) and Seth York (L.A. Studio Musician, Musicians Institute). I have scored 2 full-length independent motion pictures; Roadtrip to Oblivion and Locked Away. I have been playing, writing and recording music of all styles for almost 30 years. Specialties include Fingerpicking and Alternative Tunings for Acoustic stringed instruments.
woodenplanet@msn.com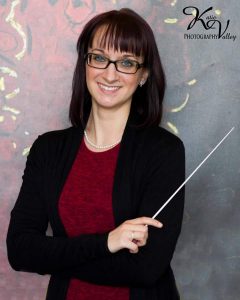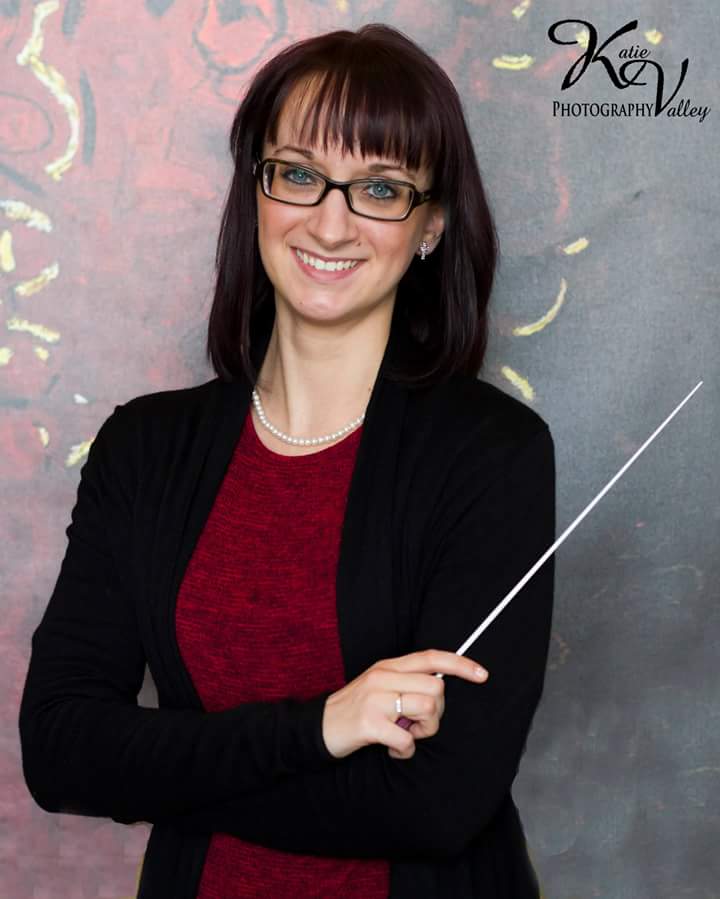 Amanda Perkins
voice, piano, clarinet, flute
Bio: My primary instrument is voice, but I started on piano at the age of 7, then clarinet at the age of 9. I began playing flute when I was in college. I was in SVSU's production of Dido and Aeneas as two different secondary roles, and also the chorus. I have competed in the Regional National Association of Teachers of Singers Competitions multiple times and placed twice in the Mature Beginners Category, and once in the Advanced Men and Women Category. I studied voice with Kevin Simons, and flute with Dr. Townes Miller.
Mark Dault
Percussion
Bio: I am a Bay City native and also SVSU alumni. I have received many different awards including 'Best Jazz Drummer,' 'Best Rock Drummer' and 'Best Blues Drummer' in the Review Music Awards. I have performed with many award winning groups and legendary artists including: Dick Wagner, Matt Besey, Myron Floren, Peggy March, Jeff Hall, Richie Cole, Question Mark and the Mysterians, Ray Peterson and many more. I also work as a session drummer and can be heard on over 13 albums. I am a member of the Vic Firth Educational Team.
markdault@aol.com
Howard Harmon
Accordion, Digital Keyboard, Organ, Tuba
Bio: I am a retired Herter Music Center staff member, having worked there since 1974. I have played tuba since high school (Bay City Handy), have traveled with my professional lounge band playing keyboards for several years, I am founder and leader of the accordion band, Kids and Koots, I've served as a 3 time past president of the Bay Concert Band, and have performed on tuba with the Wurst Band of Frankenmuth. I am currently organist at the Temple Theater, and President of the Temple Theater Organ Club.
I teach beginning accordion as well as keyboard tricks, teaching how to use the chord orchestration, intro's, endings, and fill in's on portable and full size keyboards. All ages will be accepted. Come learn how to use your keyboard to its potential.


Randy Juhl
Guitar, Violin
Bio: Randy currently plays with Bluegrass, Folk and Irish/Celtic Groups in the area. He plays and teaches Fiddle and guitar part time at Herter Music and also teaches Computer Science at Delta College and Saginaw Public School Career Complex.
Christie Killey
Alto Sax, Flute, Vocal
Bio: I started playing flute in the fifth grade and also sang in the school choir. I had a few formal lessons on flute and voice with 2 different teachers. I continue to play and sing in church twice a week and have been a guest worship leader at different churches. I started teaching in 2010 and have had students receive top ratings at both district and state Solo & Ensemble competitions.
Charles Sheldon
Baritone, Bassoon, Brass, French Horn, Oboe, Percussion, Trombone, Trumpet, Tuba
Bio: I am a graduate of Central Michigan University with a Bachelor of Music Education degree. I played solo trumpet with the C.M.U. Marching Band and held first chair in the C.M.U. Symphonic Wind Ensemble. I studied at Interlochen Music Camp on 2 scholarships. My principal teacher was Dr. Paul Wilwerth. I was band director for 27 years, and assistant band director with Buchanan Schools for 2 years. My students consistently receive first and second level ratings at District and State Festivals.
hdchuck@hotmail.com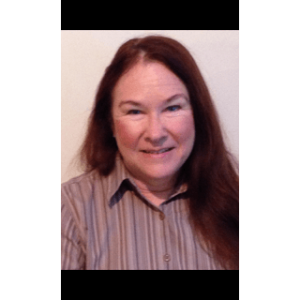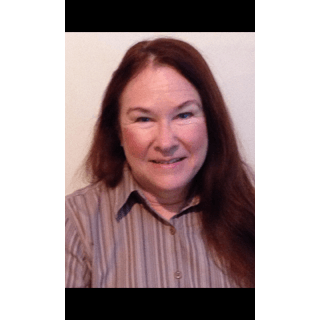 Mary Wale
Bass Guitar, Guitar, Piano
Bio: I have taught many private lessons and classes in the area. I have been teaching since I was a teenager and have experience with students ages 4 to 94. I am known for my work with the mentally or physically challenged, troubled teens, gifted and talented kids, A.D.D. students and many who just want to play music.I have played in local rock bands, accompanied many different singers and currently also work in church muisc. I studied under many different private instructors at Delta College and Saginaw Valley State University including; Jack Bruske and Bob Kingsbury. I teach both guitar and piano.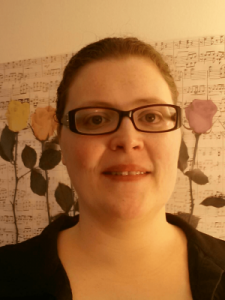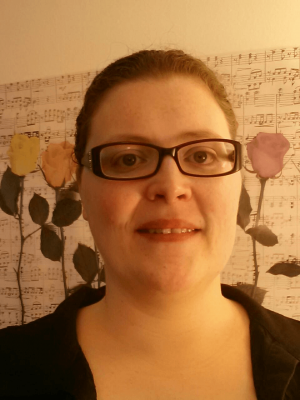 Deborah Taylor
Voice, piano, brass
Bio: I have been involved in music for as long as I can remember. Some of my happiest childhood memories involve dancing around the house, singing, and pretending I was a Disney princess. My husband and I have moved to Michigan to be near family, and I am excited to bring my skills along. I have a Bachelors degree in music along with 10 years of teaching experience both in the classroom and in private.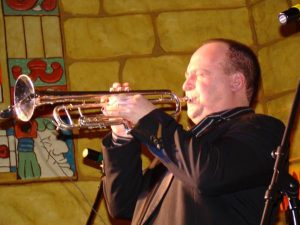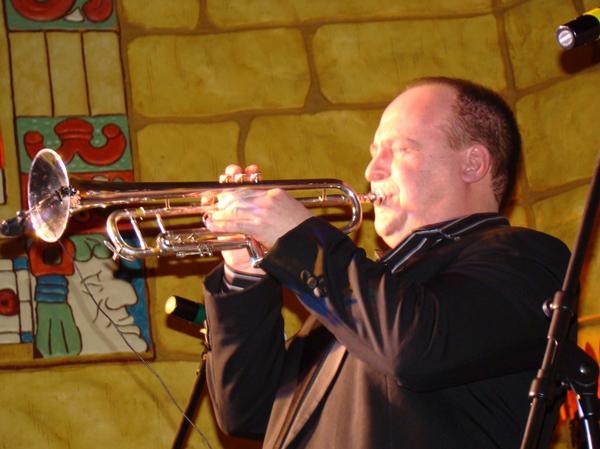 John Rickert
trumpet
Bio: I began playing trumpet at the age of 9, taught by my father who earned his doctorate in music from the University of Illinois. Later studied with Floyd Mead, Harry Wallerstein, Mike Metheny, and Jeff Stout. I am an SVSU and Berklee College of Music alumni and have been the director of music at Michigan Avenue Baptist Church in Saginaw for the last 8 years. Currently lead trumpet with the funk & soul group, "Soul Xpress" and have sang and played trumpet professionally around the world for the last 25 years.
I enjoy playing in the orchestra pit for shows in the area and with the Bay City Players. I also am a veteran in the studio and have recorded with many different groups including the legendary Dick Wagner.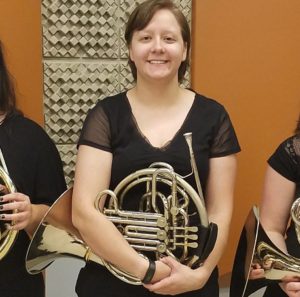 Heather Britt
French Horn, trumpet and saxophone
Bio: Heather is a 2018 Graduate of SVSU where she received a Bachelor of Arts in Music Education. She began taking piano lessons at age 5, then began to learn the French horn at age 11. She has performed in various ensembles including the SVSU Drumline, SVSU Percussion Ensemble, SVSU Wind Ensemble (on French horn), SVSU Jazz Band (on French horn, tenor saxophone and trombone), The Soundwaves Jazz Band (on tenor saxophone), Classic Legacy Band of Saginaw (on tenor saxophone and French horn) and the East Shore Wind Symphony (on percussion and French horn)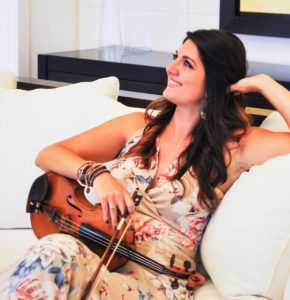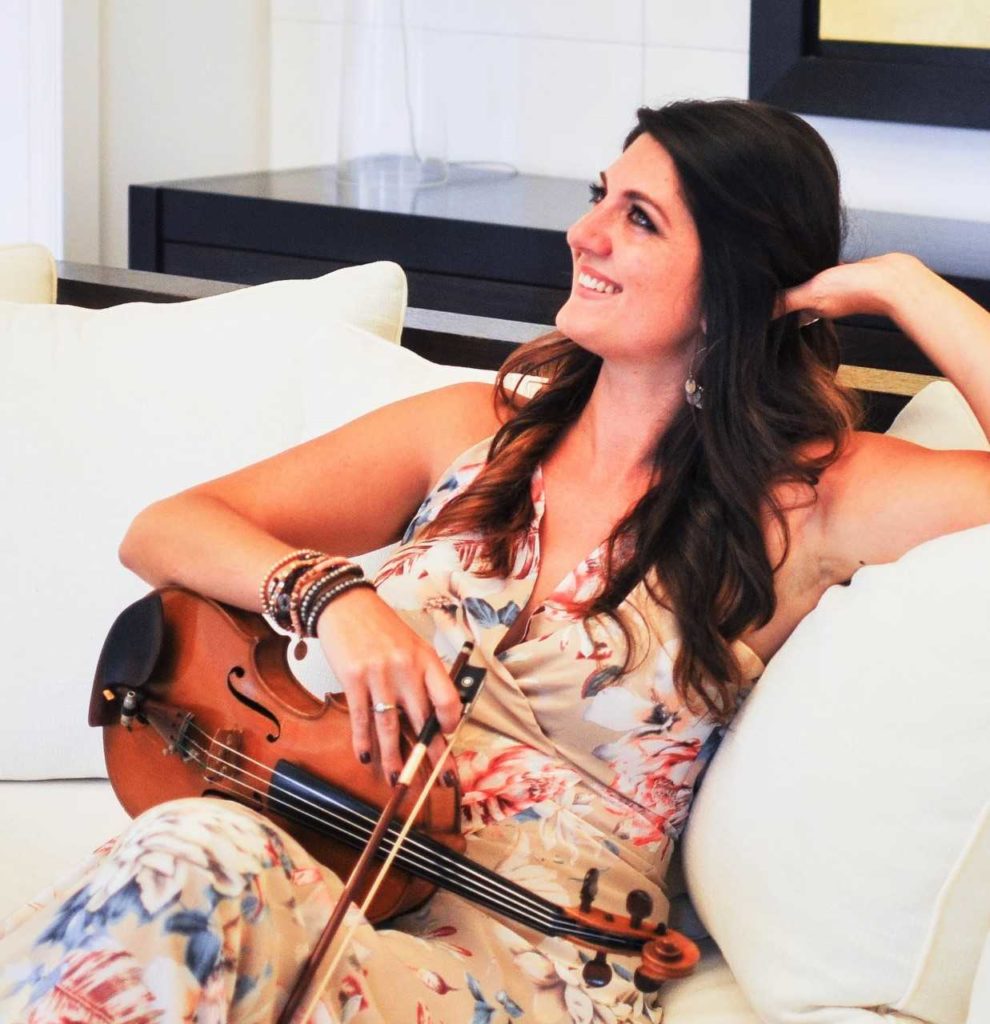 Tennille Coston

Bio: With over 15 years of teaching and performing experience, Tennille is passionate about sharing her love of music with students of all ages. Beginning her classical studies at age 7, she has enjoyed developing those skills and participating in various community orchestras & ensembles in the Bay area over the years. After spending a year living in Haiti with her family, she has also gained appreciation for music from other cultures as well. Mother to three girls, (and dog Lucy) she enjoys art, spending time with family & friends, and country living on their small farm.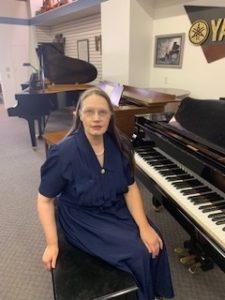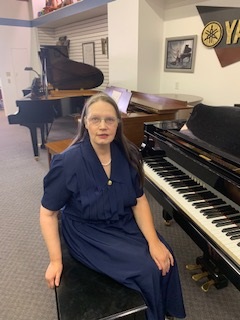 Ann Banning
Bio: I have played the piano and organ for over 50 years and have several years of experience with the Yamaha Clavinovas. I have taught piano to students of all ages for over 30 years. I have a Bachelors Degree from Cornerstone University, where I also studied piano.  I further continued my studies after college with Joanne Leach, who was the former president of the Temple Theater Organ Club. I began teaching piano at Herter Music Center in Saginaw in 1987 and transferred to Bay City in 2012.
Primary Communities Served
Auburn
Bay City
Bridgeport
Buena Vista
Carrollton
Chesaning
Coleman
Edenville
Essexville
Frankenmuth
Freeland
Hemlock
Kawkawlin
Linwood
Merrill
Midland
Millington
Saginaw
Shields
St. Charles
Tuscola
University Center
Vassar
Zilwaukee
and all other Michigan communities