PIANO DEALERS BAY CITY MI
Herter Music Center is a Yamaha Piano and Clavinova Dealer. We are your family friendly piano store!
Looking at redecorating a room in your home?
Why not redecorate around a grand piano and turn that room into a conservatory!
Acoustic and lower range digital pianos are also available.
Please contact Natalie for more information at pianos@hertermc.com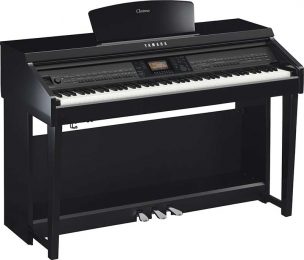 Graded hammer Keyboard Action
CFX Concert Grand and Bosendorfer Imperial Grand sampling
Virtual Resonance modeling
¼" line inputs/outputs, USB Connectivity
777 Voices + 310 Styles
Follow Lights Song Learning Technology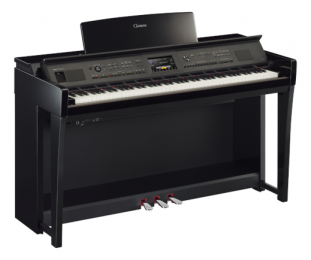 GrandTouchTM Keybed
CFX Concert Grand and Bosendorfer Imperial Grand sampling
Virtual Resonance modeling
¼" line inputs/outputs, USB Connectivity, MIDI
1,315 Voices + 525 Styles
Follow Lights Song Learning Technology
Chord Looping
Bluetooth connectivity
7" color touch screen display
135W amp power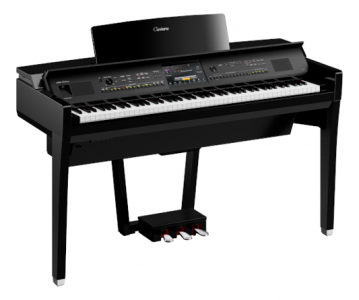 GrandTouchTM keybed w/ key counterweights
CFX Concert Grand and Bosendorfer Imperial Grand sampling
Virtual Resonance Modeling
¼" line inputs/outputs, USB Connectivity, MIDI
1605 Voices + 600 Styles
Follow Lights Song Learning Technology
Chord Looping
Bluetooth Connectivity
9" color touch screen display
260W amp power w/subwoofer
Spruce cone speakers w/ twisted flare bass ports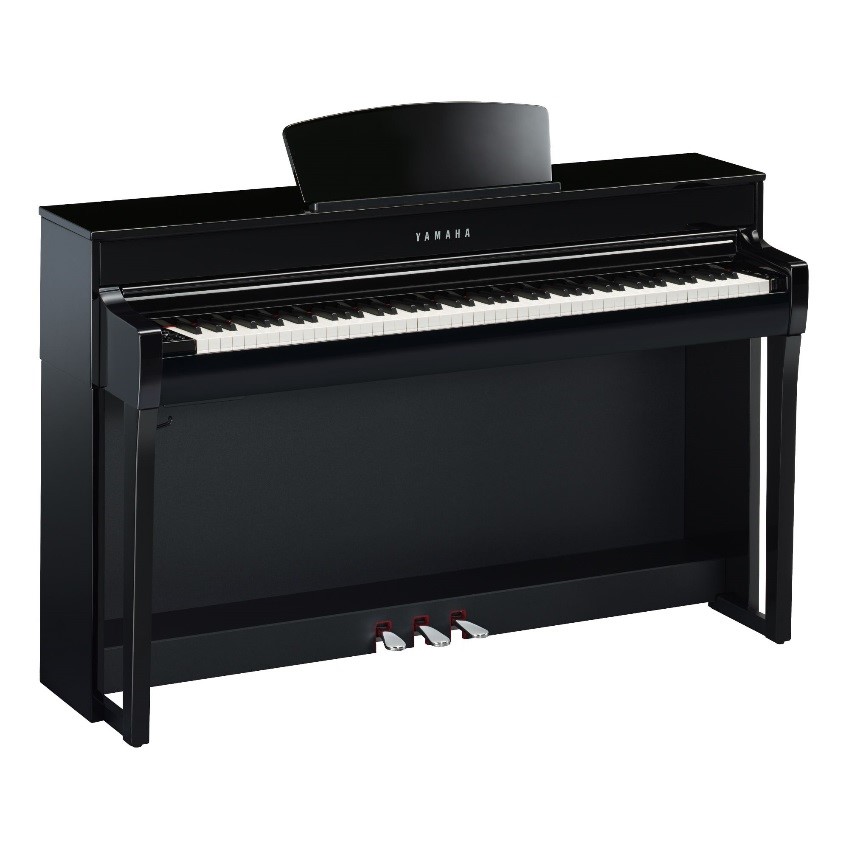 New Grand Expression Modeling – reproduces the tone variation created by the complex structure (hammers, dampers and strings) of the grand piano
New GrandTouch-S™ keyboard – 88 weighted keys with synthetic ebony and ivory key tops
Updated CFX Concert Grand and Bosendorfer Imperial Grand – binaurally sampled
Two New Pianoforte Voices – Hear the piano the same way the original composers heard it
30W + 30W Dual-Speaker System
38 Voices
Multi-track recording
Headphones, MIDI, ¼" connections
Dual/split/duo mode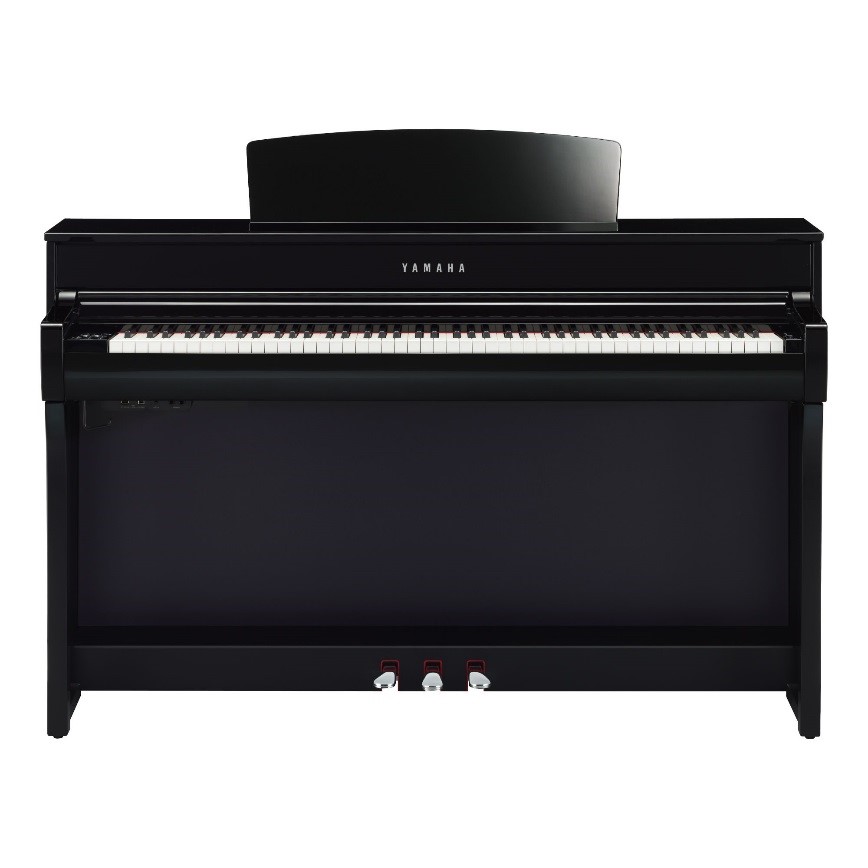 New Grand Expression Modeling – reproduces the tone variation created by the complex structure (hammers, dampers and strings) of the grand piano
New GrandTouch-S™ keyboard – 88 weighted keys with wooden white keys
Updated CFX Concert Grand and Bosendorfer Imperial Grand – binaurally sampled
Two New Pianoforte Voices – Hear the piano the same way the original composers heard it
50W + 50W Dual-Speaker System
38 Voices
Multi-track recording
Headphones, MIDI, ¼" connections
Dual/split/duo mode
Bluetooth Audio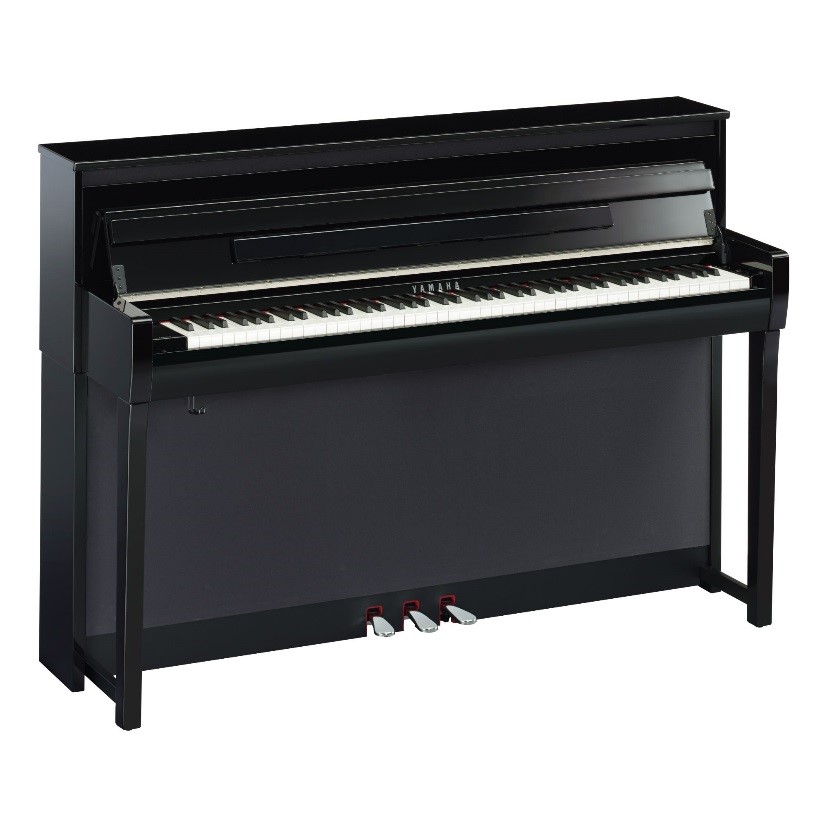 Yamaha's CLP-700 series flagship model
Touch sensor control panel
New Grand Expression Modeling – reproduces the tone variation created by the complex structure (hammers, dampers and strings) of the grand piano
New GrandTouch-S™ keyboard – 88 weighted keys with individual key counter weights
Updated CFX Concert Grand and Bosendorfer Imperial Grand – binaurally sampled
Four New Pianoforte Voices – Hear the piano the same way the original composers heard it
50W + 50W + 50W Tri-Speaker System
53 Voices + 14 Drum/SFX kits + 480 XG Voices
Multi-track recording
Headphones, MIDI, ¼" connections
Dual/split/duo mode
Bluetooth Audio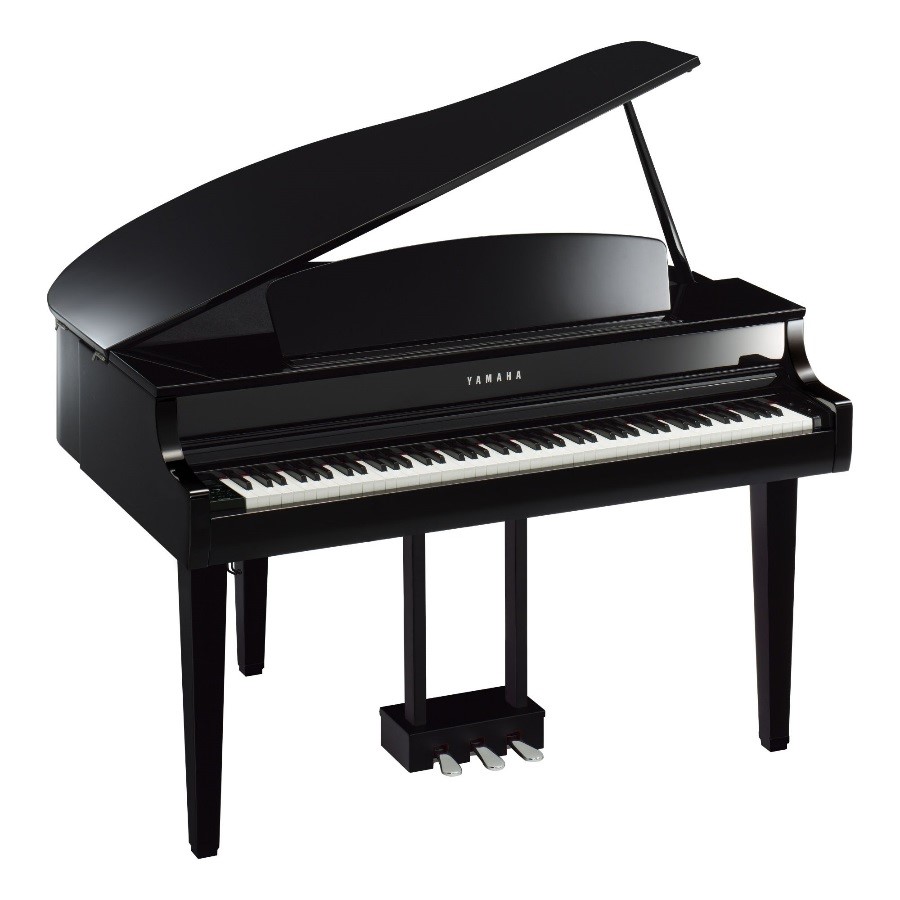 Grand Style Cabinet
New Grand Expression Modeling – reproduces the tone variation created by the complex structure (hammers, dampers and strings) of the grand piano
New GrandTouch-S™ keyboard – 88 weighted keys with wooden white keys
Updated CFX Concert Grand and Bosendorfer Imperial Grand – binaurally sampled
Two New Pianoforte Voices – Hear the piano the same way the original composers heard it
50W + 42W Dual-Speaker System
38 Voices
Multi-track recording
Headphones, MIDI, ¼" connections
Dual/split/duo mode
Bluetooth Audio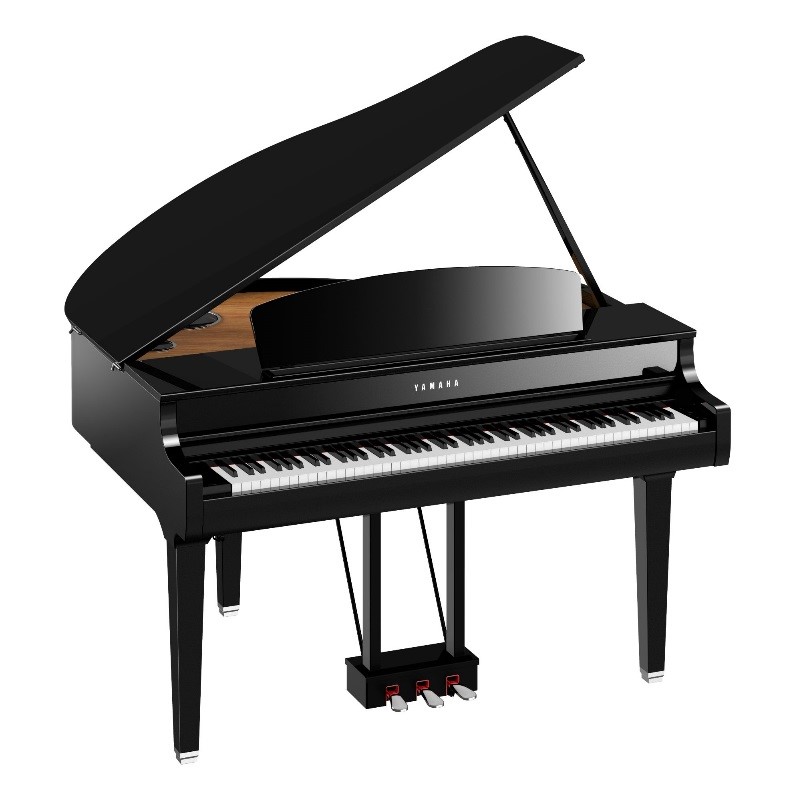 Yamaha's CLP-700 series flagship model in a grand style cabinet
Touch sensor control panel
New Grand Expression Modeling – reproduces the tone variation created by the complex structure (hammers, dampers and strings) of the grand piano
Updated CFX Concert Grand and Bosendorfer Imperial Grand – binaurally sampled
Four New Pianoforte Voices – Hear the piano the same way the original composers heard it
New GrandTouch-S™ keyboard – 88 weighted keys with individual key counter weights
50W + 50W + 50W Tri-Speaker System
53 Voices + 14 Drum/SFX kits + 480 XG Voices
Multi-track recording
Headphones, MIDI, ¼" connections
Dual/split/duo mode
Bluetooth Audio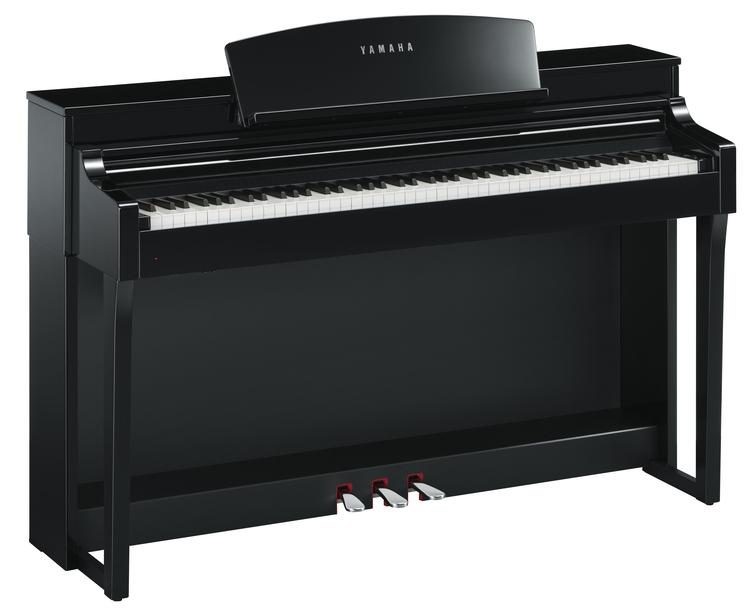 CFX Concert Grand and Bosendorfer Imperial Grand samplings
Virtual Resonance Modelling
GH3X Keyboard Action
Synthetic ebony and ivory key tops w/escapement
60W Speaker System
692 Voices + 470 Styles
Stream Lights Guided Learning Songs
Controlled by Smart Device (Apple or Android products)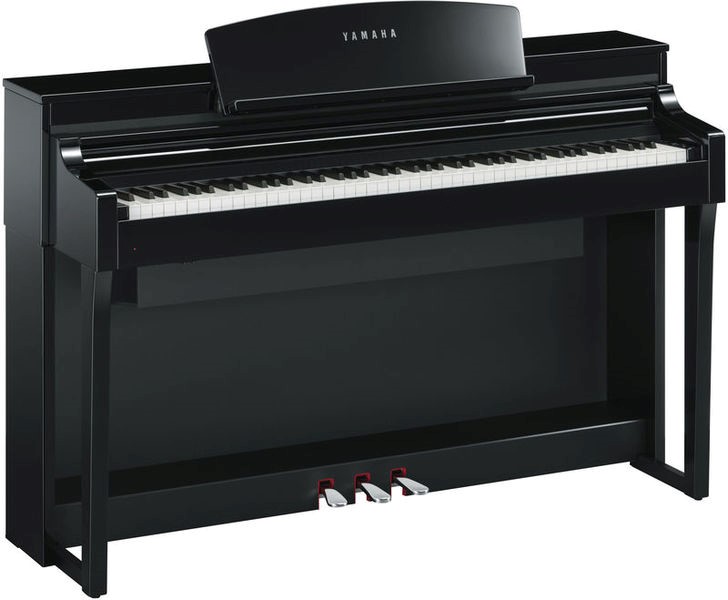 CFX Concert Grand and Bosendorfer Imperial Grand samplings
Virtual Resonance Modelling
NWX Authentic Wooden Keyboard Action
Synthetic ebony and ivory key tops w/escapement
180W Speaker System
692 Voices + 470 Styles
Stream Lights Guided Learning Songs
Controlled by Smart Device (Apple or Android products)
So, I purchased their book about Profesional Piano Teaching by Jeanine M Jacobson; …NOT BECAUSE I TEACH – – But that I've always wondered what goes on in the mind of the teacher of music/piano instructors 🙂 Thank you Herter Music Center for always keeping the incentive alive in my mind – – Music is Forever – – THANK YOU
Primary Communities Served
Auburn
Bay City
Bridgeport
Buena Vista
Carrollton
Chesaning
Coleman
Edenville
Essexville
Frankenmuth
Freeland
Hemlock
Kawkawlin
Linwood
Merrill
Midland
Millington
Saginaw
Shields
St. Charles
Tuscola
University Center
Vassar
Zilwaukee
and all other Michigan communities